I snapped this pic while Max was looking out the bathroom window yesterday:
Hubby didn't get it, but I thought it was adorable. Here is a pic of my favorite piece of spray art I've created thus far. It was done mostly by pressing wet stencils over the page...as I use them on one piece, just slap the wet stencil on something else for a cool monoprint: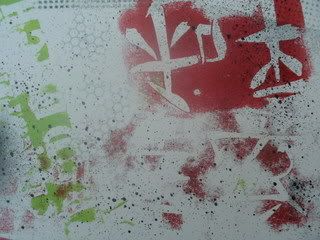 And here's Mr Puss in his favorite spot...in our bed between my and hubby's pillows, where he knows he will get lots of lovin':
Hope you're having a fab weekend!