I won!
Every month Jane at
Random Arts
picks a name from all those who left a comment on her blog the previous month and sends them a surprise, and my name was picked for June! I can't wait to get my surprise, cause anything from Random Arts will be way cool! Thanks so much Jane!! I have been meaning to take a day and drive over to visit, but now I'm thinking I should make it an overnight trip to make it easier on myself. And speaking of myself, my back is at it again! I woke up with it hurting a little yesterday, and as the day wore on it only got worse. I took pain pills and big glasses of wine to try to get relief last night and while it eased off some, it didn't go away. This morning was OMG!!! pain...I think this is the worst it's ever been. I took a muscle relaxer and 3 ibus, and am sitting here with the heating pad on it. So needless to say there will be no spray painting today. Besides, we're getting much needed rain here today (thank you Universe!) so I couldn't spray paint if I was able. So I am going to work on my naked collage sheets...LOL. I did go to
Sadies
yesterday and got some soap and jojoba oil. I love that shop! I was gonna take my camera and get a pic inside the shop because the soaps are just beautiful but I forgot it, so I took a pic of the soaps that came home with me (though not a very good one) :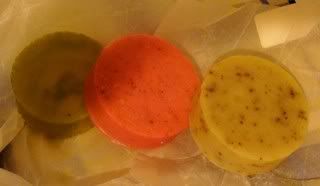 From left to right is Lemon Tea Tree Sage, Rise N Shine (with peppermint), and Rosemary Zinger. They all smell FAB!!