That's one of the songs played at the reception, and it's just stuck in my head since last night's wedding. It was a very sweet, emotional ceremony, with both the bride and groom crying heartfelt sobs while exchanging vows. If there were any dry female eyes after Gisele said her vows, that wasn't the case when Jr. finished his. It was incredibly touching seeing a man break down while communicating his feelings to the woman he loves...if only more would follow suit and prove to us girls once and for all that males really do have emotions (I know, I know, but MOST men never show them!!). Wedding ceremonies are usually always short, but this one was VERY short, with no songs played during it. I liked that, cause I hate sitting there listening to some sappy love song while the couple stands there gazing into each other's eyes. Another thing that was way different from the weddings I've attended in years past was the cake--there was only one cake, instead of "the" cake and a groom's cake, and it was chocolate with chocolate icing, and there wasn't a plastic person in site! It was delish too! After dinner was served the tables were pushed back and dancing commenced. I was one of the few who stayed in my seat watching others twist and shout. It was too hot for all that movement (the whole event took place outdoors) and besides, it was nice being a spectator. Here is the happy couple during their first dance: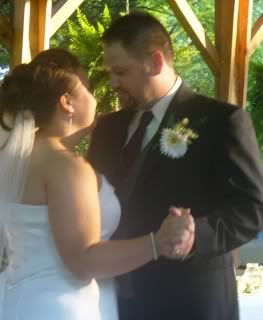 There is a shadow on Gisele's face, but that's what I get for remaining in my chair trying to get a picture. It's sad, but the only other pic I took was of the centerpiece on our table. It was 3 Mason jars, each with a candle, with ribbons tied onto the mouths, sitting on 2 squares of fabric with a few silk daisies scattered about. After it got dark the whole area was just transformed by these simple but beautiful arrangements, on every table, and I wanted to capture a little bit of that: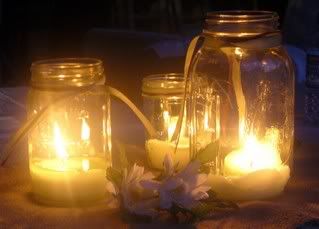 I am becoming such a social misfit that it's hard for me to take pics when people know I am taking it, even if it's of people I know and love. Another one of my quirks I guess. I wanted to get pics of Jr. and Jeff, who have been friends since they were about 15. I wanted to get pics of Jr.'s mom, Karen, who is our dear friend as well, and her new husband, Earl....but that just didn't happen. Both couples (Jr. & Gisele, and Karen & Earl) have each promised to come spend a weekend with us sometime in the near future, so that is added motivation to get the guest room in order! But not today, and not this week, even, as next weekend already has it's plans made, for the most part. In the meantime, though, I bought some new "stencils" at the $1 store I am itching to try out...with the spray paint of course!!